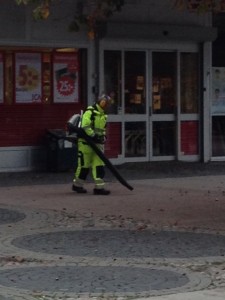 No it's not one of the Ghostbusters! It's a guy clearing our square here in Kärrtorp of autumn leaves.
After having taught English for well over 20 years, you'd think that Gary and I knew most words in the language. Far from it! On average, I'd say we learnt about 10 new words or phrases a week. And when we are doing our courses in Housing English for SABO, it's probably double that. There are so many legal terms, pieces of equipment and names for household objects that one doesn't know. The course participants really keep us on our toes.
Back to our chap in the square. It's very obvious what his inverted vacuum cleaner thingy does, but what on earth do you call it? I asked him but he told me he was Russian and didn't speak Swedish or English. Fascinating though it might have been to learn the Russian word for his gadget, instead I Tweated the question. I rapidly got an answer from former Impact92 colleague, Anna Whinett now in Wales: a leafblower. That easy!
Leafinator was also suggested but it sounded far too Schwarzeneggeresque to me. I Googled the term and found out that there is a device with that name. It's used to clear swimming pools. I had a mental image of Arnie jumping around in the water gathering dead leaves.
"Hasta la vista, baby! I'll be bark!"